Smart Forex Robot
---
10% Monthly Return Is Not a Dream, It is Actually Possible
Do you want to own a Forex Robot that can generate profits in almost every situation possible?
Do you want a generic Forex Robot that you control its actions and results?
Smart Forex Robot is your Algo Trading future 
Smart Forex Robot was planned and designed to be a generic expert advisor for every currency pairs. You can control each and every action of the expert advisor with external parameters.
Smart Forex Robot can serve all kinds of investors. With the right modifications, it can be an expert advisor for solid investments, or it can change itself to suit risk-takers investors and yield exceptional returns.
Smart Forex Robot fits every broker who works with the MT4 platform – the MetaTrader 4 program, which is basically almost everybody.
Smart Forex Robot is automated Forex trading software without any human supervision based on special algorithmic trading.
Smart Forex Robot tested on several currency pairs and is profitable and efficient.
Let the Algo Trading technology work for you. For $379 you get a fully automated expert advisor that works for you
Press Here for Buying the Smart Forex Robot
High Return on EUR/USD Investment
Does a $379 investment with this Forex Robot worth you $7,540 in return?
If the Answer is Positive Press Here Below
Great Profit on GBP/USD Investment
Can you find a better deal than that?
A $379 investment that yields a $1,857 gain, only with one currency pair – GBP/USD
If You Want to Enjoy Such Profits – Press Buy Now
A gain of 54% – Exclusively with USD/JPY investment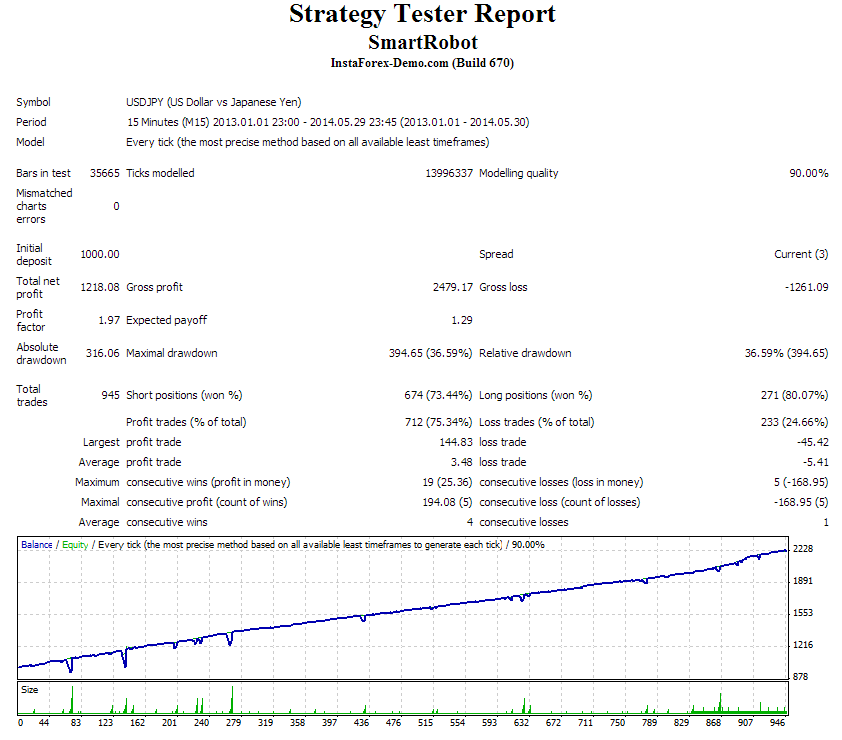 Does a 54% return on one currency pair USD/JPY in 18 months worth you a $379 investment?
I surely think so, and you?
Press the Buy Now button and Start Making Smart Money.
All that you get when you buy Smart Forex Robot.
The default return of the expert advisor is set on a monthly 10% and is suitable for a simultaneous investment on 9 major currency pairs, such as:
EUR/USD, GBP/USD, AUS/USD, NZD/USD, USD/JPY, USD/CAD, USD/CHF, EUR/GBP, EUR/JPY.
You can perform a BackTesting on your personal MetaTrader 4 platform and optimize any chosen currency pair. You can adjust the expert to fit your risk preference for every currency pair.
With buying the expert you get:
A detailed manual with screenshots that will guide you through the installation of the expert on the Meta Trader 4 platform.
A detailed list and explanations of all the changeable indicators that can be set.
Full Back Test reports are displayed on a screen, including the trades list and unique set of indicators.
An FAQ for the Expert Adviser beginner and experienced users.
Risk management recommendations while working with the expert advisor.
Professional support 24/7
Free updates.
 Press the Buy Now button and get the Smart Forex robot for only $379
Watch the video below and see how the account growth in 19 months of EUR/USD only.
See what our customers are saying about Smart Forex Robot
Hugo from Spain says:
Love the robot! every morning I check how much money the robot made for me in the night.
This is my best deal ever!!!
Louis from Germany says:
I'm extremely impressed with the robot. Keep up the excellent quality work, it is really the best robot that ever tries.
Alessandro from Italy says:
Never see something even close to this robot, use it for several months, and always have profit.
Happy, happy, happy!!!
Lucas from France says:
Wow! Today I back from 7 days on vacation and the robot makes a profit more than the vacation cost! Happy with the product.
Dmitry from Russia says:
I am interested in & respect your EA/robot…I want to learn the robot system.
William from Denmark says:
The robot work for me on 24 currency pairs and he make a great job.
(It is worth pointing out to our potential clients and customers that there is no guarantee for specific results as it is likely that results may vary)
 Press the button below and start to work with this Algo Trading system for $379 only
FAQ regarding Smart Forex Robot
Q: Do I have to trade myself? Can Smart Forex Robot work when I am away or gone out?
A: Of Course! Smart Forex Robot is fully automated and works for you 24 hours a day. It is not necessary for you to monitor every time your trades. Our Smart Forex Robot will monitor the trades, open orders, and closed positions for you when needed. Just stay tuned and receive a chance for your money to grow.
Q: What platform is Smart Forex Robot working on?
A: Smart Forex Robot is developed for the MT4 platform (MetaTrader 4). The world's most competent brokers use this trading platform. It is extremely user-friendly.
Q: Is it difficult to set up?
A: No! All you need to do is a small setup and Smart Forex Robot will trade on your account to bring you profit! You will get step-by-step instructions on how to set up and run the Smart Forex Robot, and anytime for any other question you can contact our support team by mail: support@smartalgotrade.com
Q: How many currency pairs does Smart Forex Robot work on?
A: Smart Forex Robot can work on all the currency pairs. it depends on the risk that you want. we recommended the major's currency pairs.
Q: Can I test Smart Forex Robot on a Demo account before switching over to a live account?
A: Yes, you can switch to a live account at any time.
Q: Can Smart Forex Robot be used for Binary Options trading?
A: This EA is a Forex trading system. It is not designed for Binary Options.
Q: Do I need to use a specific broker?
A: No, you are welcome to use any broker of your choice.
Q: Can I use several Robot/EA on the same account?
A: Yes, sure. However please understand the trading behavior of each EA. and set a different "Magic Number" which is the differentiation of every different EA. Under no Circumstances that putting the same magic number on the same MT4 platform.
Q: What happens if my computer loses power?
A: Any trades currently open will continue to stay open or will close on Take Profit. No new trades will be taken while the computer is off until you open MT4 back again.
Q: Does Smart Forex Robot require a Virtual Private Server(VPS)?
A: Smart Forex Robot does not require the use of a VPS, although it is very recommended. Smart Forex Robot requires a constant internet connection and should be left running 24/5. If you do not have a good internet connection, and/or are unable to leave your computer running 24/5, we suggest using a VPS. you can get Forex EA VPS by this link.
 Press the button below and get the Smart Forex Robot now
Temporary Offer – Smart Forex Robot for Free
Now you can get one-year licenses for free, the brokers will pay us and you get it totally Free
We have closed a deal with a few Forex Brokers for you. You don't need to pay for Smart Forex Robot because as part of the deal the Forex Broker will pay us for one year license that you will use.
All you need to do is:
Register and open a new account by clicking on the banner below, Each broker's operations are in addition to the Smart Forex Robot you receive from us.
Deposit money in order to start trading (It's your account and you can withdraw your money at any time).
Send us an email with the MT4 account number that you opened to support@smartalgotrade.com and we will send you a reply e-mail with your copy of the Smart Forex Robot.
Install the Smart Forex Robot on your MT4 platform (MetaTrader 4 that you get from the broker).
Just stay tuned and see your money grow.
Register with one of our Forex Broker partners by clicking on the picture below and getting the Smart Forex Robot for Free
Yes, we know "it sounds too good to be true!" we hear that all the time, but here you don't have anything to lose you get one year license for free.