Forex Broker Bonus
---


Get your one year license for Free and start your best Forex trading ever
Your last step is to register with one of our Forex Broker partners by clicking on the picture below
We have closed a deal with a few Forex Brokers for you
You don't need to pay for Forex Robot because as part of the deal the Forex Broker will pay us for a year license that you will use.
All you need to do is:
Choose Forex Broker and his offer by clicking on the banner below.
Register, Open a new account, Deposit money in order to start trading (it's your money and you can withdraw it whenever you want).
Send us an email to support@smartalgotrade.com with the MT4 account number that you opened.
We will send you to reply to your e-mail with our great Forex Robot. Install it and see your money grow.
Choose Forex Broker Bonus and get your Forex Robot Copy for Free
Why is it free? 92% of our clients continue with us and buy this Forex Robot after their Forex trading results in the first year.
High Return in EUR/USD Investment with 99.9% Modeling quality
Total net profit = $538,585

Gain = 5,385%

Profit trades = 95.00%

Modeling quality = 99.90%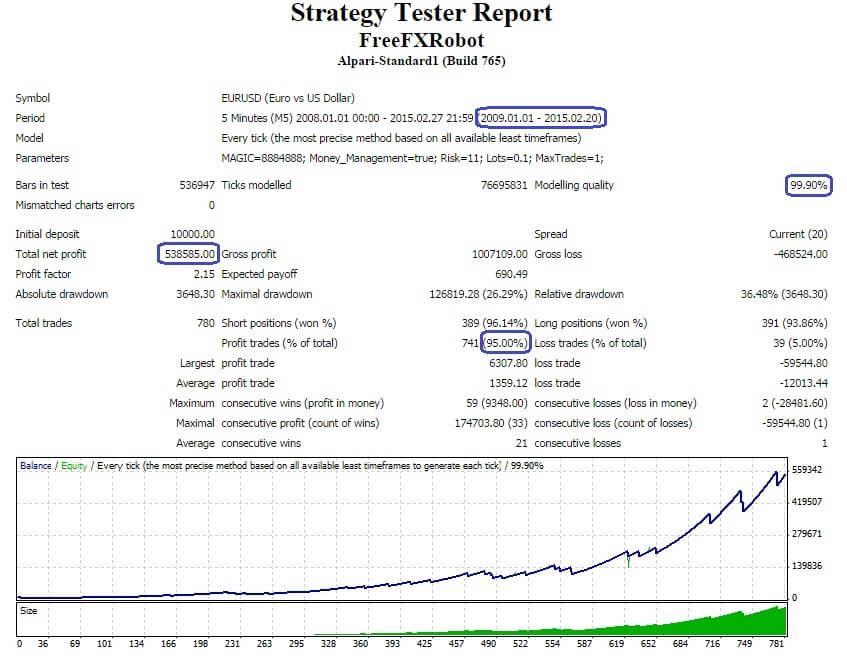 93.61% Profit trades on GBP/USD investment
Total net profit = $20,872.81

Gain = 208%

Profit trades = 93.61%

Modeling quality = 99.90%

Press here to see updated results for Double FX Robot
Why do 96% of the Forex traders lose money
Forex traders, we have a frightening secret for you.
We started to trade Forex in 2008; as all Forex traders, we went to courses that taught Forex trading, technical analysis of charts and Japanese candlestick, bought and received E-books with trading strategies, used such indicators, and trading on graphs with a different time frame.
We traded manually, and despite all the years and the experience, we have lost money. We were very frustrated.
After the loss of a lot of money and time, we realized that in order to know if a strategy was profitable, we must examine it on historical data.
By the way, 100% of manual traders do not even have a way to check whether their trading strategy is profitable, and they just gamble.
Trade with a trading strategy that has not been examined on historical graphs or tested just by eye is gambling.
In the next stage, we invested $3,500 and bought a couple of robots from the Internet, and they also lost money and failed.
We decided to develop our strategies and make them automated robots to test them on historical data, and we were surprised again when we discovered that some of them also lost money.
We developed nearly 150 different automated robots based on different Forex strategies until we got the desired results.
I want you to take a minute to yourself and answer the following questions:
Did you check your Forex strategy?
Do you have a way to test your Forex strategy?
What is your real chance to make money as a Forex trader?
Today the data show that 96% of Forex traders lose their money!
Let's face it, you don't really have a chance to be a successful Forex trader because there are many robots in the market trading against you.
If you can't beat them join them – Stop losing your money as a Forex trader and get the chance to start making money with our Forex Robot on autopilot.
Today we offer you the best robot of all our developments and tests, it's fully automated, examined with historical data, trading 24/5, and you get a year license for Free.
Choose Forex Broker and bonus by clicking the picture below and enjoy financial freedom with our Forex Robot
See what our customers are saying about this best FX Robot
Look what John from the UK have to say:
Look what Angelo has to say:
Look what Richard from Germany have to say:
Alvin from Malta says:
I have been trading Forex since 2010. I bought hundreds of robots and tested some free ones as well. All of them drained my accounts. I lost thousands of dollars because of these scam robots until I found an advertisement on a site and also saw a video on youtube about SmartAlgoTrade. I decided to test it on a demo account for one month. After it expires I decided to test it more for another month and the support is very helpful and sent me another demo one-month license for free. In this 2 months period, I made a 20K profit on a 50K demo account. It was a very good income so I decided to buy a lifetime license. Now I have been using the robot since January 2017 and already doubled the Real account that I started with 5K. Well done guys I really like your robot and I doubt that there are no other robots out there to compare with SmartAlgoTrade.Thank you SmartAlgoTrade – You are changing people's life.
Adam 'Attie' from South Africa says:
ALGO is the one!!!!!!!!!!!! u guys are the best a friend of mine is also using u guys and he started before me two weeks ago his sitting on $620 already.
Jack from the UK says:
Good support always gets an answer in time. Stable profit, easy to install. Good job!
Sem from the Netherlands says:
Great Robot, when I am going to work/sleep the robot still works for me and makes money, it's a good feeling.
Luka from Slovenia says:
I doubled my money in three months and withdrew the original money, now the FX robot trades on profit only.
Albert from Germany says:
Best robot! Simply to use, just install and forget, that's for me!
Dirk from Germany says:
Gorgeous software! Simple installation and profitable results. Well done!
Jonatan from Sweden says:
Hey, guys! Thank you very much for your FX robot! It's the most stable robot which I have ever tried! My account has consistently grown already for 6 months and I really happy about it! Thank you so much!
Patrick from the UK says:
I want to say thank you for developing this Forex robot and sharing it with other people. It is definitely the best trading robot I have ever tried. You guys are the best!
Rein from Germany says:
Hi, team, I have been running the software for some time now and it is brilliant, in fact, I have unsubscribed to most other sites regarding trading software and I have happily settled with just the FX Robot. Good work and thank you for such a brilliant piece of software.
Samuel from Polish says:
Thank you for developing this robot. It is absolutely the best trading robot I have ever tried. You are the best!
Costin from Romania says:
Finally, I find honest people in this world of fraud. I totally trust you guys! All answers that I get were honest and the robot is fantastic.
Terry from the UK says:
Your FX Robot was an eye-opener for me, I've bought quite a few useless E-books, courses, indicators, and robots that related to Forex and only lost my money! I got your FX Robot for free and it's really giving me passive income, This is the best robot ever!
(It is worth pointing out to our potential clients and customers that there is no guarantee for specific results as it is highly likely results may vary)
FAQ about dealing with the Forex Broker partners
Q: Why would you give me the Forex Robot for free if it's really that good? Where is the catch?
A: We have closed a good deal with the few Forex Brokers, so it's free for you. We get money for the Forex Robot from the Forex Broker, and the Forex Broker gets new clients with a lot of potentials to make money with Forex Robot. This is a win-win situation for all three parties. By the way, 92% of our clients continue with us and buy this Forex Robot after their success in Forex trading in the first year.
Q: Is there any additional charge or monthly fee after I get the Free Forex Robot?
A: Absolutely not. There are no fees of any kind.
Q: Will I get the Free Forex Robot addition to the Forex Broker Bonus on the deposit?
A: Yes. You will get the Forex Robot from us, and from the Forex Brokers, you will get other bonuses according to what you choose.
Q: What is the minimum deposit? What returns would I expect?
A: The minimum deposit depends on your chosen broker it starts at $100. The return depends on the volatility of the markets and your capital. With the minimum deposit, you can profit a lot but you are with more risk since there is a minimum lot to trade (0.01 Lot).
Q: Who developed the Forex Robot?
A: We planned, designed, and developed this Forex Robot in our company "Smart Algo-Trade" through years of research and experience of Forex trade
Q: Is there a minimum time to invest?
A: No, you can withdraw your money at any time; it's your account and you can manage it in whatever way you want.
Q: I saw I get a one-year license, what will happen after the year?
A: The license that you will get for free is for one year. You will get alerts from the robot in the last 30 days before the year is finished. After that, you will need to buy a new license here and there is a chance that a special offer will be made to you, but don't worry you will have a lot of profit to buy it happily after using it for one year.
Q: I already have an account with the specific Forex Broker; can I still get the Forex Robot for free?
A: No, we get money for Forex Robot only for new accounts that open from our website. Try to open a new account or buy this Forex Robot in a special offer by this link.
Q: What is the best leverage to choose on my account?
A: Higher leverage is better (don't worry, the robot will calculate your amount order according to your balance) and the default setting is recommended.
Q: I already have a Forex Broker and I don't want to open a new account with these specific Forex Brokers, what can I do?
A: You are welcome to buy our great Forex Robot with the PayPal buttons below.
Q: Do I have to trade myself? Can Free Forex Robot work when I am away or gone out?
A: Of Course! Free Forex Robot is fully automated, and it works for you 24 hours a day. Our Free Forex Robot will monitor the trades, open orders, and closed positions for you when needed.
Q: Can I trade manually or with another robot/EA?
A: Yes, of course! It's absolutely your account and you decide how to trade.
Q: What platform is Free Forex Robot working on?
A: Forex Robot is working with the MT4 platform (MetaTrader 4). It is extremely user-friendly.
Q: Is it difficult to set up?
A: No! All you need to do is a small setup and Free Forex Robot will trade on your account to bring you profit! You will get step-by-step instructions on how to set up and run the Free Forex Robot. For any other questions or assistance, you can contact our support team anytime by email at support@smartalgotrade.com
Q: Can I use Free Forex Robot on my mobile phone or Tablet?
A: The Robot runs and installs on MetaTrader 4 Platform that you will get from the Broker on a computer (PC/Laptop or VPS). This MT4 platform also has App that you can see on Smart Phone or Tablet (Android or iOS).
Q: How many currency pairs does Free Forex Robot work on?
A: Free Forex Robot can work on all the currency pairs in parallel. It depends on the risk that you want and your balance account. We recommend that you trade on the major currency pairs like EUR/USD, GBP/USD, AUS/USD, NZD/USD, USD/JPY, USD/CHF, USD/CAD, EUR/JPY, EUR/GBP because of the small spreads.
Q: Do you release updates from time to time? Are they also free of charge?
A: Yes. Occasionally we publish updates with improvements. They are always free of charge and are emailed to all of our customers.
Q: Can Free Forex Robot be used for Binary Options trading?
A: No, Forex Robot is a Forex trading system. It is not designed for Binary Options. By the way, binary options are totally gambling, we are not recommended to anyone to use this kind of trading.
Q: What happens if my computer loses power?
A: Any trades currently open will continue to stay open or will close on Taking Profit. No new trades will be executed while the computer is off until you open MT4 back again.
Q: Does Forex Robot require a Virtual Private Server (VPS)?
A: FX Robot does not require the use of a VPS, although it is very recommended. FX Robot requires a constant internet connection and should be left running 24/5. If you do not have a good internet connection, and/or are unable to leave your computer running 24/5, we suggest using a VPS. you can get Forex VPS by this link.
Q: Why your website is not secure? I am concerned about making payment there.
A: Our web pages are not secure because they don't need to, they don't contain money transfers.
If you want to buy a Double FX Robot you will do it with the PayPal page and after pressing the PayPal button you will redirect to the PayPal webpage and of course, their web page is secure.
If you register with our Forex Broker partner you deposit money there (not with us).
Q: Why not use this FX Robot for yourself to make money instead of selling it?
A: Robert Kiyosaki the author of the bestselling book "Rich Dad Poor Dad" says that rich people think about many kinds of income.
Q: Can I earn money if I will let my friends know about this deal?
A: Yes, you can do it as our affiliate, after registering as our affiliate you will get a unique link to send to your friends or share on Social Networks.
Choose Forex Broker Bonus by clicking the picture below and enjoy passive income with our great Forex Robot
Let the Forex Robot Trading for you
You also can do it with little knowledge of trading, exchange, or capital market. Now thanks to the internet, you can enjoy this Algo Trading technology.
Forex Robot is generating profits in almost every situation possible in the Forex market.
Forex Robot is fully automated trading without any human supervision based on special algorithmic trading.
Forex Robot is trading simultaneously on unlimited numbers of currency pairs.
Forex Robot reduces human psychological flaws in trading.
Forex Robot provides continuous 24/5 trading hours that leverage the manual trader's time.
Forex Robot has an inhuman execution speed of trade orders.
Forex Robot enables perfectly accurate execution of mathematical calculations of risk/reward ratio.
Forex Robot was examined with historical graphs on many currency pairs, different market conditions, and different periods of time in an optimal and automated way with no human mistakes.
This unique Algo Trading software developed by specialists in software has been reviewed by capital markets and approved by backtesting.
You only need to take care that the PC is turned on and connected to the Internet all the time.
Just see how the account grows and earns money, Forex robot will give you the freedom to achieve your dreams and live the life you have always wanted for yourself and for your family.
Send us an email with an account number that you opened and we will send you to reply to an e-mail with our great Forex Robot.
All that you get with profit Forex Trading Robot
A detailed manual with screenshots that will guide you through the installation of the expert on the MT4 (MetaTrader 4) platform.
A detailed list and explanations of all the changeable indicators and parameters that can be set.
An FAQ for the Forex Trading Robot beginner and experienced users.
Risk management recommendations while working with the Forex Trading Robot.
Professional support 24/7
Free updates.
Forex Robot can serve all kinds of investor styles (Conservative, Normal, and Aggressive) of trading by set risk per trade parameter in external parameters (see below).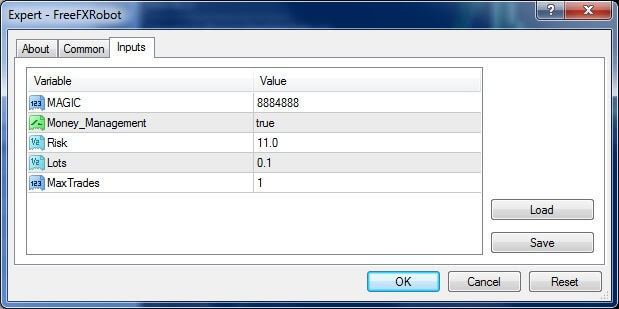 Free + Bonus
One year license with our Forex Broker partners
Click the picture below
$279
One year license with any Forex Broker
$479
Lifetime license with any Forex Broker
All you need to do is:
Register and open a new account by clicking on the banners here (each broker's operations are in addition to the FX Robot you receive from us).
Deposit money in order to start trading (It's your money, and you can withdraw it whenever you want).
Send us an email with the MT4 account number that you opened to support@smartalgotrade.com and we will send you a reply e-mail with our great FX Robot.
Choose Forex Broker Bonus by clicking the banner below and save $279 with Forex Trading Robot
Yes, we know "it sounds too good to be true!" we hear that all the time, but here you don't have anything to lose you get one year license for free.